Have the power of shopping in your hands added to the shine of the jewels with the Zales Diamond Credit Card
Offered by the Comenity Bank and Comenity Capital Bank, the Zales Credit Card is a credit care that requires a security deposit to start doing your purchases with your credit card.
It is also possible to request your own standard line of credit. Unfortunately, by being a Zales Credit Card holder you do not have access to rewards when you do your purchases using your credit card.
CREDIT CARD
ZALES DIAMOND
EXCLUSIVE OFFERS
ZERO DOWN SPECIAL FINANCING
Facility, promotions, discounts and much more for you
Promotions and bonuses
When your birthday arrives, you can receive 50 dollars off coupon. Other coupons can be available for credit card holders, and you can receive up to 10% off if you pay for repair services using your Zales Credit Card. Benefits of being a Zales diamond Credit Card holder
No Annual Fee: You do not pay annuity fees if you are a Zales Credit Card holder. It is a great reason for asking for a credit card to pay your Zales store purchases. Paying no annuity fee you can spend more money in your purchases.
Discounts and Birthday bonuses offered:You have access to so many bonuses and discounts when your look for repairing services on a Zales store. It is possible to receive credit cards and take part of some promotions along the year when you are a Zales Credit Card holder.
It is possible to fund your Zales store purchases: Being a brand with high pricing products, Zales offers to their credit card holder's options of financing their purchases by paying a 9,99% fee for up 36-month financing periods. Depending on your purchase values there are other financing periods available.
You can choose your financing period: If you choose for financing purchases on Zales stores options, you can also choose what is the best financing period for paying your purchases. 6, 12 and 18-months periods are available for financing purchases.
Plans detailed information
Each financing period has its own criteria to be selected. For example, if you want to finance 300 dollars purchase you have 6 months to do your full payment and have a 0% interest rate.
Purchases with 1500 dollars values can be financed by 36-month period with interest rate charging of 16,99% APR and after that period for late payments you must pay a 29,99% APR fee.
A 750 dollars minimum purchase is the requirement for 12-month period financing, and you have no interest rate. If you want to finance your purchase in an 18-month period, you must do 3000 dollars purchase and do not pay APR fees.
Payment options in Zales stores
Payments that are done using no Zales Credit Card do not receive special bonuses and coupons. Promotional APR and financing options are only available for Zales Credit Card customers.
Zales stores also accept another payment methods as Visa, Mastercard, Apple Pay and other credit cards. PayPal, Discover and American Express are also accepted as payment methods.
Rewards and APR fees information the Zales diamond credit card
But even you do not receive rewards doing purchases, you have exceptional conditions of funding if you plan to finance. Having a limit date of up to 18 months to financing your purchase you can also have 0% APR offer.
If your purchase will be financed in a 36-month period it is possible to have access to a 9,99% APR fee. When you choose the 12 or 18-month financing periods you must pay a transaction fee costing 9.95 dollars.
Late bills payment and fees charged: It is possible to receive extra charge values if you do not pay your purchases in the promotional period. You have free standard shipping access for online orders if you are a Zales Credit Card holder.
Progressive Leasing
If you do not want to have your own Zales Credit Card you can also pay your purchases with another payment options. If you did a minimum 300 dollars purchase it is possible to pay your order with Progressive Leasing.
A 79 dollars first payment is required if your pay your Zales store purchases using Progressive Leasing payment option. Your payment term is about 12-months for purchases made with Progressive Leasing.
Zales diamond Credit Card, Affirm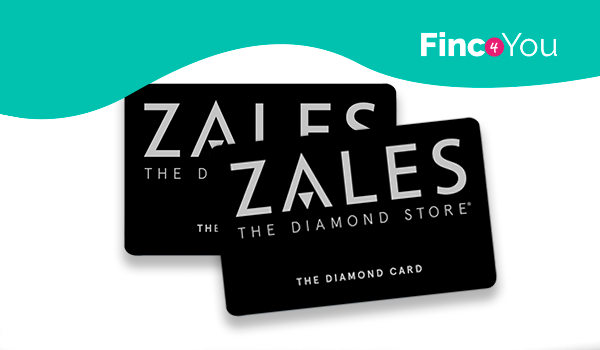 Another payment option is Affirm that is available for purchases at least 150 dollars with first payment value depending on your purchase. For purchases costing from 150 up to 400 dollars you have a payment period of 6-8 weeks.
If you did a purchase with a 400 dollars or high value, you have more time to pay your Zales store purchase bill. A 3 to 6-month period is available for you if you choose Affirm as your payment form.
Options of Zales Credit Card
There are two options of Zales credit card application. You can apply for a financing credit card or a regular purchase credit card. Both credit card types offer the same bonuses and coupons.
The difference between these credit cards is the financing options that are only available if you use the Zales Credit Card with special financing plans for doing purchases on Zales stores.
CREDIT CARD
ZALES DIAMOND
EXCLUSIVE OFFERS
ZERO DOWN SPECIAL FINANCING
Facility, promotions, discounts and much more for you